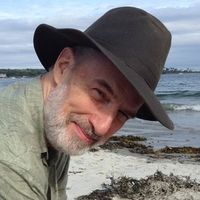 Here are some testimonials about work done by Peter Falkenberg Brown, the owner of DataVarius, from clients as well as work supervisors. Note that these testimonials cover the period before DataVarius was founded in 2020.
Robert Ames, Vice President of Digital Strategy and Operations at NewBay Media
"Having worked with Peter for more than 4 years, I can attest to his professionalism, leadership, commitment to quality, vast technical expertise, and exceptional character. He is truly a valuable asset who can deliver sustainable, efficient and effective operational results."
Joseph Ferrick, Former Vice President of Digital Strategy and Operations, NewBay Media
"I have worked with Peter for over six years and have seen firsthand his expert problem-solving and project management skills in action. Always looking to learn in the changing world of digital media and grow his skills, he has proven to be an experienced senior leader of the digital team at NewBay Media and is heavily relied on for his opinion and insight."
John Allen, Former Director of Information Technology, David Lewis Company, Inc.
"One of the hardest parts of developing a company database is finding the right programmer to do the job. I like working with Peter Brown because he always tries to understand the project from the user's point of view.

He makes a lot of effort to anticipate needs and goes the extra mile to make sure the process is complete. He's logical, clever and thorough. I've worked with Peter for two years now and find him to be very responsive; extremely knowledgeable; reliable; and a real pleasure to work with."
Daniel K. Berman, Ph.D., Former Publishing Firm Client
"Of the dozens of programmers with whom we have had contact during the past couple of years, Peter Brown stands head and shoulders above the rest. This I say categorically and without hesitation. The programming he has written for us works very well. Peter is a rare combination of talent, competence and responsibility. My only regret is that I did not find him sooner!"
Lorrie Shumaker ~ Former Office Manager, Central Virginia Maintenance and Pipeline Services
"Ten years ago Peter Brown wrote a large database program for Central Virginia Maintenance that has proven to be extremely robust. [The] program has demonstrated its complete Y2K compliance. We've processed millions of dollars in invoices with this program. We use this program on a daily basis and couldn't imagine life without it now. It has been an enjoyable and trouble-free program."
Tim Veenstra, CEO of Airborne Technologies Incorporated
"A number of years ago while doing a web search for a database developer, I came across Peter Brown and was impressed enough by his website that I decided to call him. From that first phone call, I knew I had found the developer that I was looking for.

His professional manner, broad knowledge base and his willingness to help lead me and flex with me was invaluable as I worked through the process of designing a database that fit my specific needs and in getting that database online.

Over the past few years, Peter has always been available at a moment's notice when the need arose to help fix broken web links or modify the database as our needs evolved. His integrity and professionalism are rare commodities these days. I have no compunctions in highly recommending him to anyone needing database development."
Carmel King, VP Media Tech Group at Future plc
"I was part of the management team that hired Peter in 2005. His calm demeanor, quick understanding of our business issues and high technical competence were key in moving IMAS from an elementary digital operation to a modern, agile and competitive digital player.

His work was key to the business growth we experienced over the next few years, and helped position IMAS for eventual sale to a larger media company.

Post-sale, Peter remained a valuable part of the NewBay team, working creatively and diligently to provide new solutions for us and help NewBay evolve as a digital media player. He's smart, reliable and extremely competent (plus an all-around nice guy). He's a pleasure to work with, and will be an important asset to anybody looking to upgrade their digital team."